Dear St Luke's
We are very pleased to announce that the Revered Paula Clifford will be joining us as our Interim Ministry Priest on September 20, 2020. Please find a letter from Revd. Clifford to our congregation below.
We rejoice and give thanks to the Parochial Church Council and to all who have participated in the recruitment process.
Love in Christ, 
Patrick & Leigh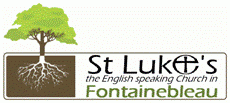 Kirtlington, Oxfordshire
28 July 2020
Dear Friends at Fontainebleau
Greetings! I am very much looking forward to joining you. In the meantime the wardens have asked me to tell you something about myself, so here goes.
I am writing to you from a village near Oxford, an area where I have lived and worked most of my adult life since coming here as a research student many years ago. My story began in Brighton (on the South coast of England) where I was the only child of God-fearing parents, although I didn't come to faith myself until rather later. From there I headed north to study French and German at Leeds University, and then on to Oxford where I did a doctorate in French Linguistics. My early career was as an academic, teaching Linguistics and medieval French literature, first at the University of Reading and then at Magdalen and Somerville Colleges in Oxford. I also acquired a husband (who died some years ago) and three children along the way, as well as a theology degree.
The next part of my working life was completely different. I joined Christian Aid, the international development agency, and spent a wonderful 14 years travelling the world, first in a communications role and then as the organisation's Head of Theology. In 2010 I became what the Church of England rather euphemistically calls a "late ordinand", meaning that I resisted God's call to ministry until I was getting on a bit, although I had already served 20 years as a Lay Reader in one of Oxford's large evangelical churches. I served my curacy partly in another church in central Oxford and partly in the rural benefice where I now live, and went on to be Vicar of Minster Lovell, another rural parish some 15 miles away, a post which I held in conjunction with being Mission Enabler to the churches in the Oxford deanery.
In 2017 I responded to the Diocese of Europe's call for priests with management or similar experience who were willing to be trained in interim ministry, and this eventually took me to the Canary Islands, where I was interim chaplain at All Saints, North Tenerife for 15 months.
This isn't the place to talk about the nature of interim ministry – there will be plenty of time for that. But I am as sure as I can be, after spending time with your wardens and meeting some of you, that God has a way forward for us working together. There is so much that is good in your life as a church; my job is to encourage you to develop that further and to help you discern a path for the future. Please be assured that I am not in the business of making changes where none are needed.
My three children are now well into adulthood and have given me four grandchildren, and I am looking forward to visits from them – they certainly profited from my time in Tenerife! Sadly, though, the uncertainty around post-Brexit quarantine regulations means that I will be leaving my elderly dog and my little Spanish cat back home in the UK.
Please pray for me in the coming weeks as I prepare to join you, and know that I shall be praying for you and our journey together.
God bless you all.
Paula